5 Best Restaurants in Pigeon Forge for Southern Food
When you visit the Smoky Mountains, you probably want to try all the delicious southern food you can't get at home. From fried chicken to creamy chicken pot pie, these places to eat have all the comfort foods you'll want to eat. Check out these 5 best restaurants in Pigeon Forge for southern food:
1. Old Mill Restaurant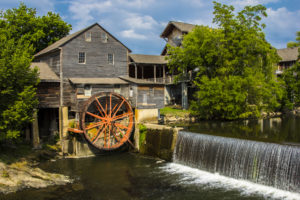 One of the most popular places to get delicious southern dishes is the Old Mill Restaurant. You'll find classics, such as fried chicken, meatloaf, and chicken pot pie. They also serve beef liver, country fried steak, and chicken and dumplings. You will also enjoy any of the seafood dishes, from spicy broiled catfish to the fried shrimp. Their mashed potatoes and green beans are as country as you can get. Don't miss out on dessert or the freshly baked bread made every day!
2. Old Mill Pottery House Cafe and Grill
Right across the road from the Old Mill Restaurant is the Old Mill Pottery House Cafe and Grill. Their southern staples have a modern twist that makes them unique. Try the apple pie pork chops or the bacon and blue chopped steak. Get spicy with the cajun red snapper or the spicy grilled catfish. You can't go wrong with the fried green tomato BLT sandwich or the pimento cheese sandwich, which is a local favorite. No matter what you decide to order from the Pottery House Cafe, you'll think it's delicious!
3. Huck Finn's Catfish
For a true southern experience, eat at Huck Finn's Catfish! Start out with chicken livers, corn nuggets, or fried green tomatoes. For your meal, you can get fried chicken, fried catfish, or a combination of both. For other seafood options, get fried shrimp, fried clam strips, or fish and chips. They also serve country fried steak, pork loin, frog legs, and gator tail. Any meal you order comes with their bottomless vittles. The vittles include coleslaw, baked white beans, french fries or homemade mashed potatoes and gravy, hushpuppies, dill pickles, and onions slices.
4. Calhoun's
If you've never had Tennessee barbeque, you should go to Calhoun's. They have ribs, pulled pork, smoked chicken, and beef brisket. The ale steak or ale pork chops are covered in Worcestershire butter and marinated in Cherokee Red Ale. Any steak you order is tender and juicy. Some of the sides you can order with your meal include Tennessee corn pudding, spinach maria, and Smoky Mountain baked beans.
5. Paula Deen's Family Kitchen
If you're over at The Island and find yourself hungry for southern food, one of the best restaurants in Pigeon Forge for southern food is Paula Deen's Family Kitchen. You can get fried okra, fried green tomatoes, or seafood dip as appetizers. This restaurant is unique because it serves food family style. The table decides on 2 or 3 main dishes and 4 sides, then shares the food with the entire table. Some main dishes you can choose from include fried chicken, beef pot roast, spare ribs, and chicken and dumplings. Sides include creamed potatoes, green beans, corn casserole, and baked mac and cheese.
These are just some of the best restaurants in Pigeon Forge where you can find southern food. Are you ready to start tasting delicious food on your next trip? Start planning it today by booking one of our hotel rooms!